IWS Vegigators
A joint collaboration between IWS and Nutriculture. Taking 12 months of constant trialing and testing, the Vegigator is a multi-pot flood and drain system that enables growers to take cuttings and seedlings to the next stage before putting the plants into a larger system.
Available in 6, 12 and 24 pot configurations, the flexibility of the Vegigator allows growers to switch trays to suit the size of the grow. All systems run from the same tank and delivery system.
All systems have been purpose designed to fit into a 1.2 metre square room.
From: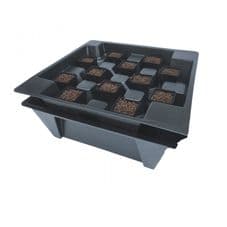 From:
From: